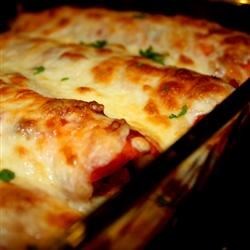 allrecipes.com
I love Mexican food, not the spicy one, but the tasty type. Enchiladas is very easy, it may be the most typical Mexican food. OK, maybe after Fajitas. Basically Mexican food for me involves some tortillas, beans, veggies, chicken, tomato sauce and sweet jalapeno peppers. You just wrap them in different ways and voila, your Mexican dish is ready (of course it's not that easy and my Mexican friends would give me the stink eye, sorry pals!). But for Mexican wrapping things in tortilla is basic since the Mayan times. And I'm glad they do!
Ingredients:
(for 8 tortillas)
50 dkg chicken breast
20 dkg red beans
25 dkg corn
1 red onion
1 onion
250 g tomato puree
4 cloves garlic
1 red pepper
1 teaspoon salt, pepper, thyme
6 slices of sweet jalapeno pepper
4 dl cream
20 dkg trappist cheese (as I did not have cheddar cheese at home)
Sauté up the thinly sliced or chopped onions and garlic. Slice and dice the chicken and add it to the pan. Cook it until no longer pink, then add the tomato sauce, salt, pepper, thyme and japaleno pepper.  You can also add the red pepper, corn and beans. When the meat is cooked, you can start filling the tortillas. Spoon 3-4 spoonful of the chicken-vegetables mix on the tortilla and roll it up. Place the tortillas in a pan, pour the cream and grated cheese on top. Bake them on 180 degrees for 30 minutes, until the cheese melts properly.
My tortilla "rolls" before baking: